A chance for patients and caregivers to learn step-by-step how to register for the Arkansas medical cannabis program. Discover how to have a conversation with your doctor and get an application to join the program.
Special Guests: Coltyn Turner, Sara Payan, and Wendy Turner
Special Panel: Cannabis and Kids
Special Panel: Cannabis and Cancer
About Coltyn Turner:
Coltyn is the first registered medical cannabis pediatric patient for Crohn's disease in the State of Colorado and possibly the United States. Coltyn is currently using medical cannabis to treat Crohn's disease, lupus, and rheumatoid arthritis.
About Sara Payan:
Sara Payan is an award-winning cannabis educator specializing in cancer-related therapies, the Director of Education at the Apothecarium, writer, and patient advocate. She is a stage-three colon cancer survivor who was introduced to the medical marijuana program during her treatment. Cannabis is what got her through her initial illness, surgery, and chemo. She was able to keep her weight up, reduce nausea without using expensive intense medication and control her neuropathy.
After going through the life-changing experience of cancer, Sara re-evaluated what was important to her. The desire to bear witness and help others suffering through illness is what moved her to become an educator, advocate, and activist for medical cannabis and is what drives her to lead the movement in normalizing cannabis use for health. Her patient experiences and her civil rights background made her passionate about creating safe access to cannabis through education and also inspired her to create a compassionate consulting training program for those in the medical cannabis industry and beyond. She is also a vice-chair of the San Francisco Cannabis State Legalization Task Force.
Medical Cannabis Patient Symposium
Tuesday, July 11th
6:00pm to 7:30pm
Comfort Inn & Suites Presidential
707 Interstate 30, Little Rock, AR 72202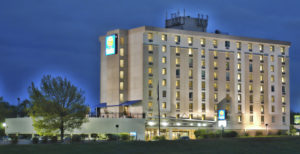 No charge – our goal is to educate Arkansas medical cannabis patients.
Photos from the event: