Are you thinking about applying for a medical marijuana dispensary or cultivation facility license in Arkansas?
The IRS 280E statute is a major hurdle for cannabis businesses when tax time comes around because it states that only expenses that are considered Cost of Goods Sold (COGS) are able to be deducted for federal income tax purposes. This can lead to much higher federal income tax burdens when compared to normal, non-cannabis businesses.
Sarah A. Vestal, PhD, a revenue agent with the Internal Revenue Service with a specialty in cannabis taxation, will educate prospective dispensary and cultivation facility applicants on the ins and outs of IRS code 280E and will provide examples of how the IRS actually conducts audits of cannabis businesses. Robert J. Clock, CPA, an Arkansas accountant on the board of the ACIA, will talk about the implications of 280E from the tax accounting perspective.
A question and answer segment will follow their presentation.
Please join us Tuesday, September 5th from 6pm to 7pm.
RSVP at the Facebook event page or by emailing Info@ARcannabis.org.
Agenda
INTRODUCTION

IRS goals with cannabis industry – no fraud, no referrals, only future compliance
Cole memo implications
Background expertise

LEGAL ISSUES

USC 26, IRC §§ 280E and 471
Court Cases
Indirect methods of determining cannabis gross receipts

IRS AUDIT TECHNIQUES

Tour of business, interview, minimum income probes

CASE STUDY

San Francisco cannabis grower

SUMMARY & QUESTIONS
Medical Cannabis Federal Taxation Seminar
Tuesday, September 5th
6:00pm to 7:00pm
Comfort Inn & Suites Presidential
707 Interstate 30, Little Rock, AR 72202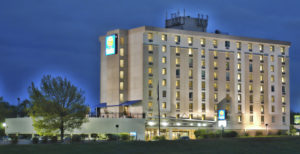 No charge – our goal is to educate prospective applicants in the Arkansas medical marijuana industry.
---
About Sarah A. Vestal, PhD – IRS Agent
Sarah Vestal serves the Internal Revenue Service in her hometown of Little Rock, after recently transferring from San Rafael, CA.  Over the last decade, Sarah worked Marin, San Francisco, and Sonoma Counties as an IRS field agent bringing cannabis growers and dispensaries into compliance with federal taxation law.  The IRS also has Sarah provide expert testimony on behalf of the US government in ongoing CA and CO cannabis tax litigation and educate other IRS agents nationwide on all aspects of cannabis production.
In search of warmer winters in 1877, Sarah's ancestors moved their family greenhouse and nursery business from Indiana to now North Little Rock, AR.  In 1892, Vestal's Greenhouse & Nurseries published the first color catalog west of the Mississippi River. Sarah's father and grandfather both received horticultural degrees and were nationally recognized by the industry in differing decades based on their continuing greenhouse technological innovations.  As an active 6th generation family business member, Sarah grew up managing greenhouse operations for multiple flowering crops.
Sarah was recognized by the US Department of Agriculture in 2002 for developing the first USDA Certified Organic greenhouse range in compliance with the National Organic Program.  Sarah was named as Arkansas Farm Family of the Year in 2005 and served the University of Arkansas as a Master Gardener for the AR Governor's Mansion.  In 2016, Arkansas Times named Sarah as Arkansas Woman Entrepreneur of the Year – Trailblazer, for Sarah's efforts in promoting cannabis production in compliance with Federal taxation laws.
Sarah has an undergraduate degree in Accounting from the University of Arkansas (1979) and she is a licensed Certified Public Accountant in California.  Sarah has a MBA degree in Technology Management (University of Phoenix, 2001) and a MS degree in Taxation from Golden Gate University (2010), the top-rated tax program in the U.S. Her doctorate is in organizational leadership (University of Phoenix,2015).
Over an almost 40 year professional career, Sarah has owned and led mid-size manufacturing, research & development, import-export, and agricultural organizations in addition to her current service for the federal government.
About Robert J. Clock, CPA
Robert J Clock, CPA has over 30 years of public accounting experience focused in the area of taxation.  Robert is a Certified Public Accountant (CPA) licensed in California and Arkansas.
Robert assists clients in the areas of tax planning, compliance, preparation, business succession and accounting for businesses, individuals, trusts and estates.  His experience includes healthcare, medical professionals, medical clinics and practices, dental practices, horticulture, agriculture, transportation, legal, real estate development and construction, manufacturing, retail, wholesale, software development and consultants, and many other small to medium size businesses.  He has helped develop several start-up companies across the country.  Robert has been involved in multistate taxation, buy/sell agreements, transaction structuring, historical rehabilitation tax credits, and several other areas of taxation.  Robert has successfully represented many clients before the IRS and state taxing authorities.
Robert earned his Bachelor of Science in Business Administration with emphasis in finance from California State University at Long Beach.
In Arkansas, Robert has served as tax manager at Beall Barclay & Company and Lawrence, Schlutterman & Schwartz, Ltd.  He also previously owned and operated his own tax practice for over 18 years in Long Beach, California.  Robert began his professional career at Balser, Horowitz, Frank & Wakeling in 1986, before joining Price Waterhouse in 1987.  These experiences have been instrumental in helping him prepare for his current role.
Robert's commitment to a strong and disciplined work ethic has brought him success throughout his professional career.  His understanding and care for his clients have made Robert an invaluable resource to those he serves.
Robert has lived in the Fort Smith area for over 9 years and has been converted to a fan of the SEC and Razorbacks.   On his down time, Robert enjoys spending time with his family, watching Razorback Sports, hunting, fishing and playing ice hockey.