Are you thinking about applying for a medical marijuana dispensary or cultivation facility license in Arkansas?
Brett Roper, the CEO of Medicine Man Technologies will talk about his company's experience with medical cannabis license applications and the lessons they've learned operating dispensaries and cultivation facilities.
Brett will cover six hallmarks of a quality application and an operational perspective for dispensary, cultivation, and extraction businesses.  He will also speak to various financial pro forma modeling options related to both operations and capital investment. There will be an extended Q&A period, so bring your questions, and he will do his best to provide answers as well as simple guidance.
Please join us Tuesday, July 25th from 6pm to 7pm.
RSVP at the Facebook event page or by emailing Info@ARcannabis.org.
Medical Cannabis Application and Operations Lessons Learned Seminar
Tuesday, July 25th
6:00pm to 7:00pm
Comfort Inn & Suites Presidential
707 Interstate 30, Little Rock, AR 72202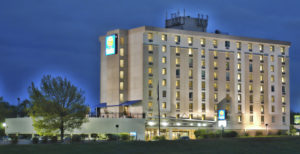 No charge – our goal is to educate prospective applicants in the Arkansas medical marijuana industry.
About Brett Roper
As the Co-Founder and CEO of Medicine Man Technologies, Inc. (OTCQB: MDCL), Mr. Roper has worked extensively supporting application submissions for multiple clients in California, Colorado, Hawaii, Illinois, Maryland, Nevada, New York, Ohio, Oregon, Pennsylvania, Puerto Rico, and Washington.  His general experience (extensive) in the Cannabis Industry allows him to provide an excellent perspective into the industry noting his industrial and commercial real estate development background brings a wealth of facilities experience to the table as well.  His extraordinary and diverse business experience as well as success within this industry has allowed him to become a well-rounded 'quiet advisor' to many companies as well as investors in the Cannabusiness space.  More recently MMT's acquisition of Success Nutrients and Pono Publications (IP backing the Three-A-Light brand) are allowing their clients to achieve significant increases in cultivation efficiency while achieving the highest quality at a very affordable cost of cultivation.