The ACIA dispensary agent training in Fort Smith will give you an in-depth look at each of these questions and much more!
January 20th • 11 PM – 5 PM • Fort Smith, AR
Seats are filling up fast… click here to reserve yours now!
Here are 15 questions attendees just like you are asking:
1. What's the process of obtaining a dispensary agent employee badge from the state of Arkansas to be a cultivator in emerging industry?
All dispensary agents must register with the Arkansas Alcoholic Beverage Control Division. In preparation for the upcoming dispensary agent training seminar, we've pieced together the key rules and regulations you need to know to work in an Arkansas medical cannabis dispensary or cultivation facility.
You can read the full break down of the regulations here.
2. How do I get a job in the legal cannabis industry?
Be passionate about wanting to help people and educate yourself about the science and research of medical cannabis.
3. What are the pay scales for cannabis industry jobs?
Entry level positions can expect $24,000-$36,000 per year
Sales and management can expect $30,000-$100,000+ per year
Cultivation, extraction, and skilled positions can expect $75,000+ per year
4. When will products be ready to dispense to Arkansas patients?
We anticipate dispensaries opening mid-to-late summer 2018.
5. How may I be most useful to someone wanting to make a choice about medical cannabis?
Be a trusted resource for patients. Take your time and provide as much education and product knowledge to each patient.
6. What are the different types of products patients can purchase? What would the side effects be?
There are eight (8) common medical cannabis administration methods. We will cover each in-depth at the ACIA dispensary agent training on January 20th in Fort Smith. Click here to reserve your seat…
7. How do I assist those who truly require remediation from their pain symptoms?
Educate the patient about all products. Something as easy as helping the patient keep a journal can make a difference in a succesful treatment outcome.
8. How effective is medical cannabis for chronic severe pain as opposed to strong opiates?
Chronic and severe pain is one of the most common conditions in which patients seek medical cannabis treatment. While we do not have enough research or double-blind studies, there is a growing body of research that shows a large reduction of opiates in states that have legalized medical cannabis.
9. What are the probable locations for dispensaries?
The Arkansas MMJ commission has created eight (8) zones. There will be four (4) dispensaries in each zone.
10. Where can I fit into this industry in Arkansas with no prior experience?
You can attend our dispensary agent training for a look at the many jobs available in today's medical cannabis industry. Or, keep doing what you are doing, just apply it to cannabis! There is a desperate need for business and medical professionals in the Arkansas medical cannabis industry.
11. Will Arkansas have the various medical strains available in other legalized states?
Yes! Arkansas will have a wide variety of cultivars, extracts, and infused products.
12. Is this a lucrative career field?
There are high-level management and mid-level positions available in the medical cannabis industry. Just like any industry, yearly salaries vary.
13. When will the industry actually start hiring?
Arkansas cultivation facilities will start hiring after licenses are awarded on February 27, 2018.
14. Do cannabis products sold in Arkansas have to be lab-tested prior to sale? 
Yes! All products will be tested for pesticides, potency, mold, and moisture. Extracts and infused products will be tested for residual solvents.
15. Is this a chance for me to get my foot in the cannabis industry?
Yes! Future employers will look at all continued education that you have completed. This training will teach you the essential skills to professionally and compassionately consult critically ill patients and anticipate their needs.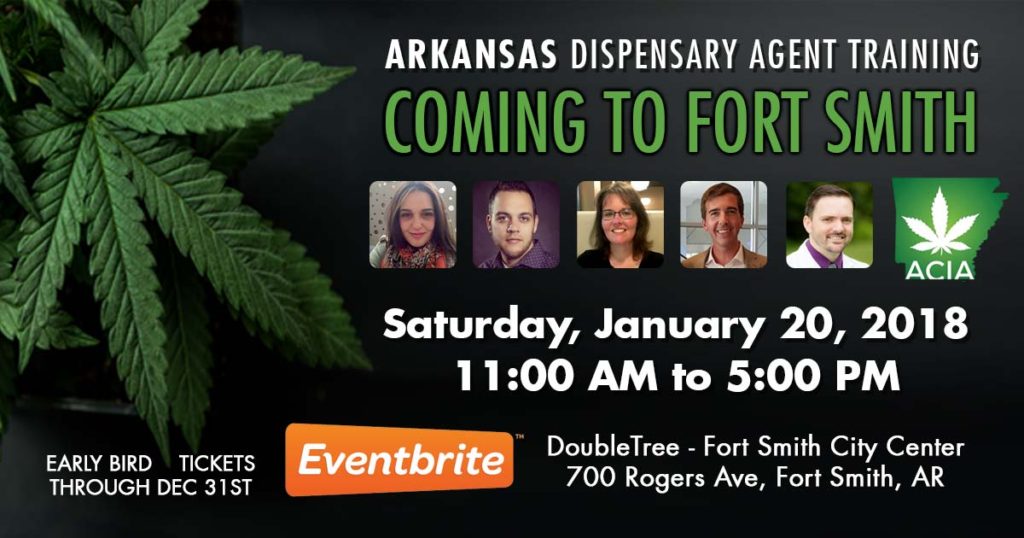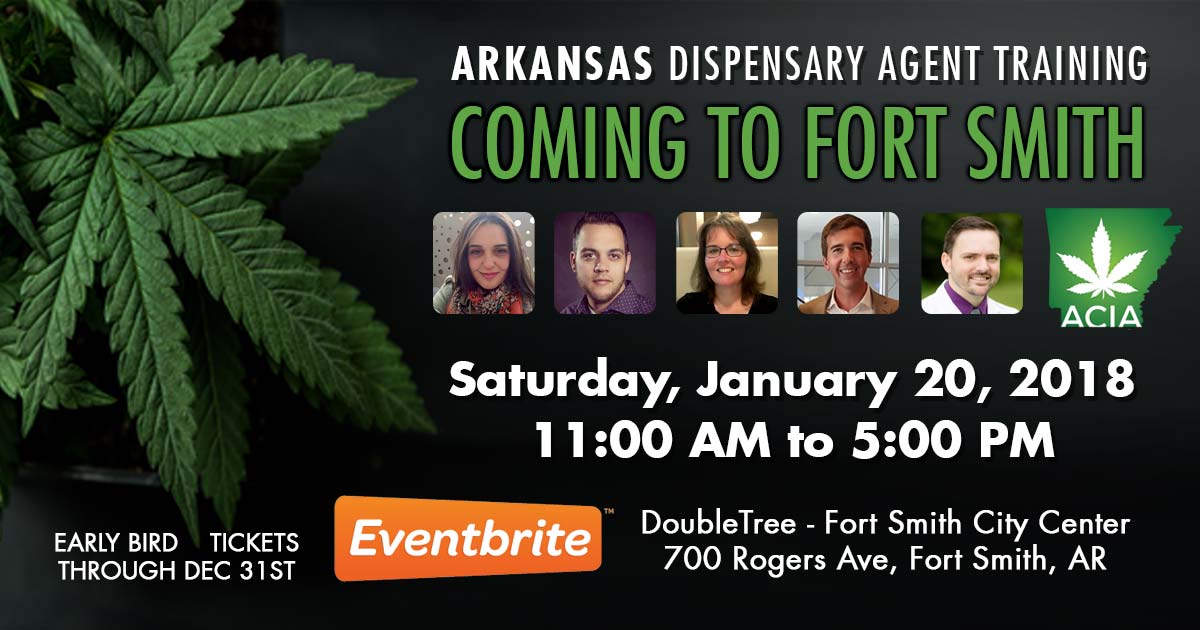 January 20th • 11 PM – 5 PM • Fort Smith, AR
Seats are filling up fast… click here to reserve yours now!